What Did Jesus Eat?
Have you ever wondered what Jesus ate? If you're anything like me, you love any details you can learn about Him. I did some research and discovered some of the foods he most likely ate.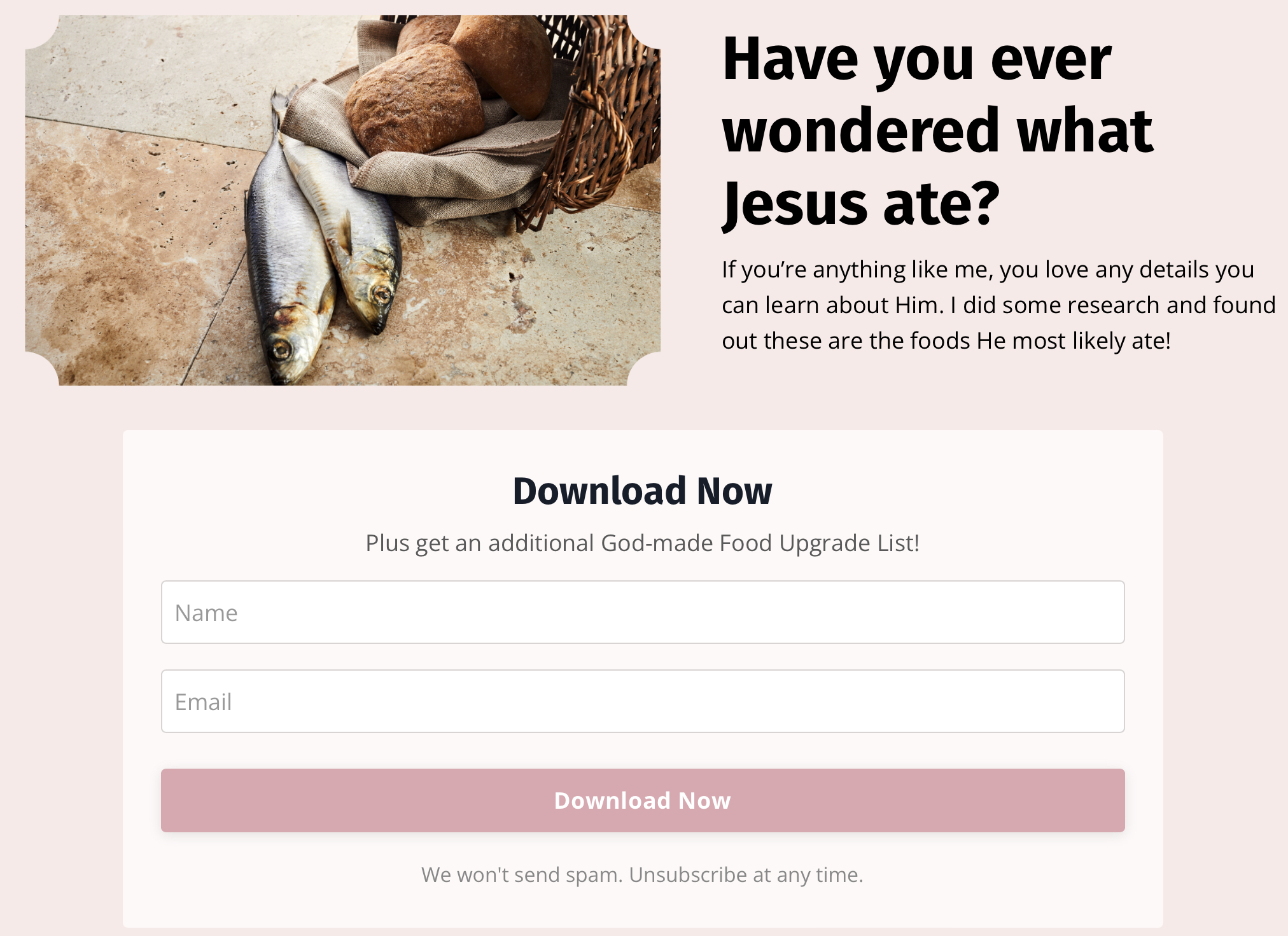 Did you know food is mentioned 1207 times in the Bible? Here's what we can learn from Jesus about food.
I've got 7 points for you packed with tips, food lists, and help to heal your relationship with food and find your best health, God's way!


1. There is no diet in the Bible
As much as we may want God to tell us exactly what to eat, the truth is there isn't a macro split or diet in the Bible. But we can still glean a lot of wisdom from it for our physical health as well as our spiritual, mental, and emotional health. For example, since God made our bodies the best fuel for them will be the foods He made
2. What did Jesus eat?
Have you ever wondered what Jesus ate? If you're anything like me, you love any details you can learn about Him. I did some research and found out these are the foods He most likely ate:
o Figs
o Raisins
o Dates
o Fish
o Lamb Click here to read more about how Jesus ate meat https://www.bibletools.org/index.cfm/fuseaction/Topical.show/RTD/cgg/ID/22484/Jesus-ate-Meat.htm
https://www.gotquestions.org/did-Jesus-eat-meat.html
o Honey
o Olive oil
o Olives
o Grapes
o Vinegar
o Bread
o Almonds
o Pistachios
o Walnuts
o Legumes
o Chickpeas
o Pomegranates
o Cucumbers
o Melons
o Mustard
o Mint
o Dill
o Leeks
o Onions
o Garlic
The Passover meal that Jesus would have eaten in Exodus, Chapter 12, shares this: "The Lord said to Moses and Aaron in the land of Egypt: [Each household] shall eat [lamb] roasted over the fire, with unleavened bread, and with bitter herb
It's also said that the Last Supper may have been a Passover meal.
In other words, Jesus's diet consisted of whole foods that God made—and we can follow His example for optimum health. We are blessed becasue we can get all of these foods at our local grocery store.
Just imagine, Jesus sitting around with His closest friends surrounded by these delicious God-made foods. When you think about it, that would make for one delicious charcuterie board!
3. Eat like Jesus, Switch from Man-Made, Processed Foods to Whole God-Made Foods
Doesn't it make sense that if God made our bodies, we should be eating the foods He designed us to eat?
Then God said, "Let Us make man in Our image, according to Our likeness; let them have dominion over the fish of the sea, over the birds of the air, and over the cattle, over all the earth and over every creeping thing that creeps on the earth." So God created man in His own image…" (Genesis 1:26–27 NKJV)
"Every moving thing that lives shall be food for you. I have given you all things, even as the green herbs." (Genesis 9:3 NKJV)
I'm asked multiple times a day:
o What diet are you on?
o What diet should I try?
o What's the best diet?
After twenty years in the fitness industry and trying just about every diet available. I learned the hard way what works—and it's not a diet. It's eating whole, God-made foods. You may be wondering if it could be that simple, and the answer is yes. Ask yourself this: when you decide what to eat, do you ever consider what you are putting in your body and how it came to be set in front of you? God created specific foods for our nourishment. These are the fruits and vegetables that grow from our earth, the water that feeds them, and the animals that graze upon them. These foods have been provided for our benefit and our sustenance, and by focusing our efforts on God-made foods versus man-made foods, our bodies will thrive.
4. Jesus made food about fellowship.
Scriptures about Jesus Eating
Mark 2:15 And it *happened that He was reclining at the table in his house, and many tax collectors and sinners were dining with Jesus and His disciples; for there were many of them, and they were following Him.
Luke 7:36 Now one of the Pharisees was requesting Him to dine with him, and He entered the Pharisee's house and reclined at the table.
John 21:12 Jesus *said to them, "Come and have breakfast." None of the disciples ventured to question Him, "Who are You?" knowing that it was the Lord.
John 12:2 So they made Him a supper there, and Martha was serving; but Lazarus was one of those reclining at the table with Him.
The lessons we can learn from these scriptures
Make eating a time of worship and fellowship, invite Jesus to the table, gather your family for meals, and eat with others. Enjoy food!

Jesus had Shabbat dinner and It was a time for worshiping the Lord, honoring tradition, and spending time with family and loved ones.

Instead of turning on the tv or a screen, invite God to eat with you, gather around the table with your family, invite a lonely neighbor or work colleague to eat with you, get off your phone, and get in the presence of God.

Make eating a time of worship, a time when you invite God to your table and thank Him for your meal and ask Him to bless your food, and your health, and share this time with others when you can like Jesus did, take the emphasis off of the food and put it on the goodness of God.

5. Jesus had a healthy relationship with food.
Friend, do you have a healthy relationship with food? Becasue if not, God can repair it.
When you eat, ask yourself, am I eating from a grateful heart or a gluttonous one?
And if it is gluttonous, skip the guilt by turning to God and asking for Him to show you how to give yourself His grace and return to gratitude.
The way we eat from a grateful heart is this, we don't put a bite of food into our mouths without first coming to God with a long moment in prayer and gratitude.
Jesus is saying this to you in Revelation 3:20, Here I am! I stand at the door and knock. If you hear my voice and open the door, I will come in and eat with you. Just wow right?!
Let me give you a real example:
God has shown me that if I invited Him to the table and He was eating with me, I wouldn't be shoving food in my mouth and scrolling through my phone. I would be in reverence in awe of the food He provides, the way He protects my family, the peace He gives when we eat from a grateful heart versus a hurried, can't seem to be satisfied, I'll just have another bite and then another, gluttonous one. The thing about gluttony is that it doesn't satisfy and it takes away our peace. There's never enough, but in Jesus, there is fullness of joy!
So, whether you eat or drink, or whatever you do, do all to the glory of God. – 1 Corinthians 10:31
I say all of this because dieting causes us to have a very unhealthy relationship with food where we don't enjoy food often with others, but we go home and overeat alone, we find ourselves standing in the kitchen at night eating, turning on the tv to numb ourselves, but what's really eating us has nothing to do with food.
Can you see how the devil uses God's gift of food to ruin our health, judge ourselves, and steal away the feeling of gratitude we should be having?
Sister, do you know how much Jesus loves you? You are not alone in your struggle with food. If you need a reminder of how much God loves you and cares about you, look at the cross.
The massive takeaway is this Jesus can repair your relationship with food.
Dieting is not biblical, you were not created to hate yourself for what you eat or how you look, food will not satisfy the feeling of not-enoughness within us, only God can do that.
Remember this there is a lie in fitness that suggests you can be perfect but no one can eat perfectly and once you realize this you are free, it's not about perfect it's about being faithful
This is a very helpful tip - delete this perfection diet soundtrack. It sounds like this. I'm bad because I ate bad or I'm good because I ate good. Our mindsets need a Holy cleansing over this performance-based eating.
Take this scripture and sit with it at the feet of Jesus:
Everything is permissible for me, but not all things are beneficial. Everything is permissible for me, but I will not be enslaved by anything [and brought under its power, allowing it to control me]. 1 Corinthians 6:12 AMP
What just came to mind?
Ask Jesus to free you from what has been controlling you. You are stronger than food.
John 6:35. "Then Jesus said, 'I am the bread of life. Whoever comes to me will never go hungry, and whoever believes in me will never be thirsty. '"
6. Important health reasons to choose God-made foods over man-made foods:
Our bodies weren't made to eat man-made, processed foods. Look at the contrast in how they affect our bodies.
Man-made processed foods cause:
o Weight gain
o Decreased energy
o Inflammation
o High bad cholesterol
o Increased blood sugar
o Activate fat-storing hormones
o Cravings
o Brain fog
o Disrupted sleep
o Contribute to anxiety, depression, and lower self-esteem
Man-made foods are processed foods, and they are the leading cause of obesity. Here are examples:
o White flour
o White sugar
o Trans fats
o Candy
o Crackers
o Chips
o Cereals
o Soda
o Fried food
o Pastries
7. How to Apply what Jesus ate and how He ate to your life
Learn God's Grace, and unlearn the guilt around food caused by dieting.
Understanding what to eat can be very confusing in our world.
We hear contradictory opinions every day, so here are simple questions to ask yourself:
Did God make it?

Can I read (and understand) all of the ingredients in it?

How do I feel when I eat it?

According to 1 Corinthians 6:12, what foods control me, and ask God to help you gain control over them

What man-made foods can I replace with God-made foods

What do I need to change about my eating to make it a time of worship and fellowship?

Have I made food an idol? Am I using it to comfort me instead of asking God to comfort me?

Do I view food as a gift and do I invite God to my meals to thank Him?

Is God leading me to fast certain foods?

Am I living to eat or eating to live?
Ask God for wisdom, and He will give it to you.
If any of you lacks wisdom, let him ask of God, who gives to all liberally and without reproach, and it will be given to him. (James 1:5 NKJV)
Your Questions, Biblical Answers, shares,
"In the New Covenant of Grace, the Bible is far more concerned with how much we eat than what foods Christians eat. Physical appetites are an analogy of our ability to control ourselves. If we are unable to control our eating habits, we are probably also unable to control other habits such as those of the mind (lust, covetousness, unrighteous hatred/anger), and unable to keep our mouths from gossip or strife. As Christians, we are not to let our appetites control us; rather, we are to control them." (Deuteronomy 21:20; Proverbs 23:2; 2 Peter 1:5-7; 2 Timothy 3:1-9; 2 Corinthians 10:5).
Before we pray, let's take a quick look back at how Jesus ate. He ate for fuel and fellowship, He ate God-made foods and these foods satisfy, He gave thanks, and He had a healthy relationship with food.
Remember His love for you and he understands what you go through, He was tempted as we are…
No temptation has overtaken you except such as is common to man; but God is faithful, who will not allow you to be tempted beyond what you are able, but with the temptation will also make the way of escape, that you may be able to bear it. 1 Corinthians 10:13
Prayer
Dear God,
I invite You to be lord over my food choices. I invite You into my kitchen and to eat with me (Revelation 3:20). By the authority You've given me, I am turning away from food idolatry, body idolatry, eating disorders, body dysmorphic disorders, and any unbalanced or unhealthy eating. Let no spirits of fear find any place in my new habits. Your Word says You desire health for me (3 John 1:2) and You have given me not a spirit of fear, but of power, love and self-control (2 Timothy 1:7). Pour Your Spirit over me as I practice self-control and choose the foods You made for my body. Let no gluttonous or guilt-induced food behaviors have any place in my life. Give me a heart for learning about servings to help me get wisdom and understanding (Proverbs 4:7).
I pray that You, Lord, will be glorified in my body.
In Jesus's name, amen.
If this has blessed you, please take the next step and learn how to get Fit God's Way by getting your copy of the book. You can buy Fit God's Way everywhere books are sold.
Praying that you and your family are healthy.
Remember you are Strong. Confident His.
10 God-made Quick & Easy Grab-and-Go Meals!
Download 10 of my favorite fast and easy God-made grab-and-go recipes for FREE!