What Does the Bible Say About Fitness? 10 Must Know Scriptures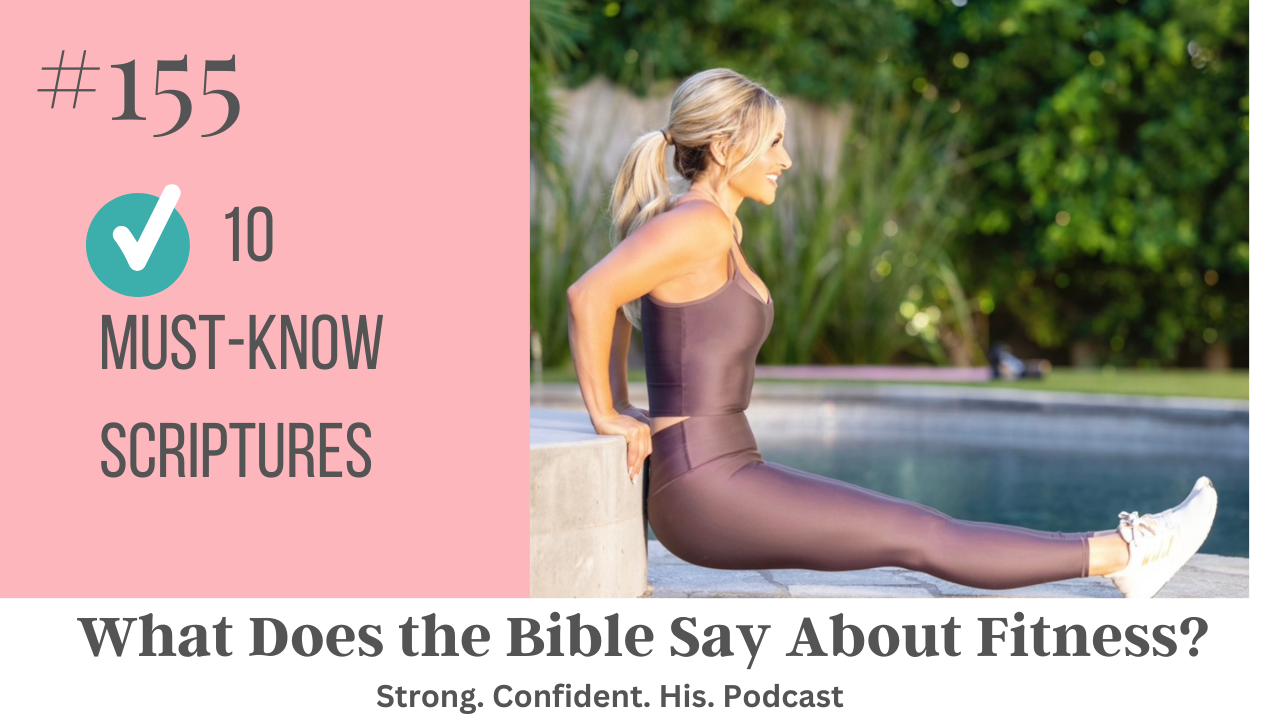 Have you ever wondered what the Bible says about fitness?

This is an episode you are going to want to save. It may be the most important podcast episode I've ever done, and here's why.
Throughout my fitness journey, I have felt a battle inside of me that I think will sound familiar. This battle surfaces in an array of feelings...doubts, fear, frustration, and questioning. It tempts us to be prideful or compare and even feel like what's the point. This battle is our flesh and our spirit, and it's going on within us each day.
Today, we take our power back by learning what the Bible says about Fitness.
As your fit sister in Christ, I care a lot about you, so I made you a gift to go with this Episode.
Please share this link with your friends-your daughter-your Bible study group. Print them out, put them on your mirror on your refrigerator, and in your purse or gym bag. You can also screenshot them and make them your phone lock screen. Download 10 Must-Know Scriptures for Your Fitness, here.

Knowing the Word of God is our defense. This is how we come up against those thoughts and feelings that attack us. It is what we speak aloud, where we run to get back on track, get our minds right, motivate, and inspire ourselves toward godliness.
Did you know Jesus memorized scripture and even recited it to the devil when he tempted him? As Christ's followers, we must know the Word.
In this fitness space that God has called me to teach, I cannot overstate the importance of having the Word to run to. It will restore, renew, and revive you.
What the Bible Says About Fitness: 10 Must-Know Scriptures
1. God wants to eat with you Revelation 3:20
Here I am! I stand at the door and knock. If anyone hears my voice and opens the door, I will come in and eat with that person, and they with me.
2. God desires health for you 3 John 2
Beloved, I pray that you may prosper in all things and be in health, just as your soul prospers.
3. God says you are fearfully and wonderfully made Psalm 139:14
I will praise You, for I am fearfully and wonderfully made; Marvelous are Your works, And that my soul knows very well.
4. God has given you self-control Galatians 5:22-23
But the fruit of the Spirit is love, joy, peace, longsuffering, kindness, goodness, faithfulness, gentleness, self-control. Against such there is no law.
5. God says to honor Him in your body 1 Corinthians 6:19-20
Or do you not know that your body is the temple of the Holy Spirit who is in you, whom you have from God, and you are not your own? For you were bought at a price; therefore glorify God in your body and in your spirit, which are God's.
6. God created everything you need for food Genesis 9:3
Every moving thing that lives shall be food for you. I have given you all things, even as the green herbs.
7. God says you are the work of His hands Isaiah 64:8
But now, O Lord,
You are our Father;
We are the clay, and You our potter;
And all we are the work of Your hand.
8. God says to discipline your body 1 Corinthians 9:24-27
Do you not know that those who run in a race all run, but one receives the prize? Run in such a way that you may obtain it. And everyone who competes for the prize is temperate in all things. Now they do it to obtain a perishable crown, but we for an imperishable crown. Therefore I run thus: not with uncertainty. Thus I fight: not as one who beats the air. But I discipline my body and bring it into subjection, lest, when I have preached to others, I myself should become disqualified.
9. God says you are to offer your body as a living sacrifice. Romans 12:1
I beseech you therefore, brethren, by the mercies of God, that you present your bodies a living sacrifice, holy, acceptable to God, which is your reasonable service.
10. God says whatever you eat or drink or do, do it all for His glory 1 Corinthians 10:31
Therefore, whether you eat or drink, or whatever you do, do all to the glory of God.

Prayer
Before I pray, please take a deep breath and picture yourself sitting at the feet of Jesus, take whatever has blocked your fitness or wholeness in the past, your pain, your problems, the places you need a breakthrough, take them all, and lay it at His feet. Now take a deep breath in, surrender it, lay it down, and exhale.
Dear God,
Our fitness and wholeness are a part of our Christian walk, so we long to know you here. Help us remember these scriptures, helps us write your Word across our hearts and minds so that we know it and we live it. Many of us want a deeper relationship with you and to experience your presence. I pray for health, healing, and wholeness over me and my sisters. Meet us where we need you today. We love you so much, Lord.
In Jesus' name, amen.
Sister, if you need a comprehensive bible-based guide to your food, fitness, and wholeness, get your copy of Fit God's way where books are sold. It's my new book and I'm thrilled to say it's been #1 in Christian Living and Whole Food Diets.
After you get your copy, I invite you to start living Fit God's Way by taking the Fit God's Way 7 Ws challenge with a friend.
If this Episode of the Strong. Confident. His. Podcast has blessed you, please consider sharing it with a friend and rating and reviewing my show. This helps me help more sisters just like you who need to know the power, promises, and peace they can have in Christ in their fitness. To Review on Apple, click here, scroll down, rate with five stars, and write a review. For Spotify, click here, look for the rate icon, and rate with five stars. Also, make sure to follow the podcast, so you don't miss out on Word-based food, fitness, and worth answers that create lasting results. There's a better way to fit, it's Fit God's Way!
Rate, Review & Follow
Links mentioned in this episode:
Download 10 Must-Know Scriptures for Your Fitness, here.
Get Your Copy of Fit God's Way
Remember, You are Strong. Confident. His.
"Trust in the Lord with all your heart, And lean not on your own understanding; In all your ways acknowledge Him, And He shall direct your paths." (Proverbs 3:5-6 NKJV)
10 God-made Quick & Easy Grab-and-Go Meals!
Download 10 of my favorite fast and easy God-made grab-and-go recipes for FREE!