Balsamic Salmon and Brussels Sprouts
Ingredients
3 Tbsp. extra virgin olive oil
2 Tbsp. balsamic vinegar
2 cloves minced garlic
1 tsp. honey
½ tsp. sea salt
Freshly ground black pepper
Pinch of red pepper flakes
1 lb. brussels sprouts, ends trimmed, then quartered
2 salmon filets, about 4-6 ounces each
1 cup cooked grains for serving, like quinoa or brown rice
Cooking Instructions
Preheat your oven to 425F, and line a rimmed baking sheet with foil or parchment for easy clean up.
For the marinade: whisk 3 Tbsp. olive oil, 2 Tbsp. balsamic vinegar, 2 cloves of minced garlic, one tsp. honey, 1 tsp. sea salt, freshly ground black pepper, and a pinch of red pepper flakes in a small bowl.
As you prep the brussels sprouts, slice the ends off and quarter them. You want them to be very small pieces so they cook in the same amount of time as the salmon.
Lay the quartered brussels sprouts and salmon on the sheet pan.
Drizzle all the marinade over the salmon and veggies, and toss to coat everything evenly. Spread everything back out into a single, even layer.
Bake everything for 15 minutes.
Serve salmon and veggies over quinoa or brown rice.
Zucchini Spaghetti with Ground Beef, Tomato Sauce, Garlic, and Basil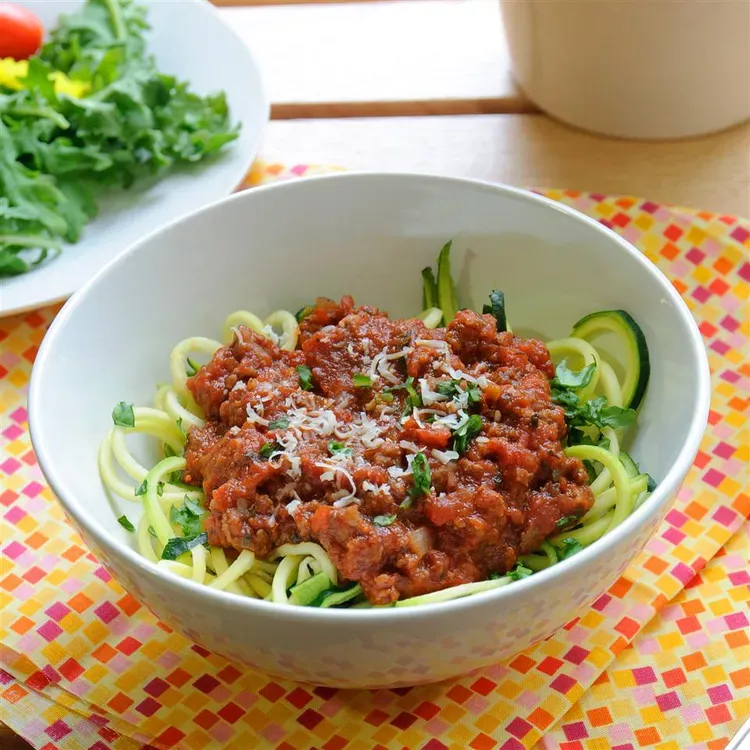 Ingredients
1 pound ground beef

1 teaspoon ground black pepper

1 (15 ounce) can tomato sauce

1 (14.5 ounce) can whole peeled tomatoes

1 tablespoon salt, or more to taste

1 teaspoon dried basil

½ teaspoon dried oregano

½ teaspoon garlic powder

½ teaspoon onion powder

¼ teaspoon ground thyme

¼ teaspoon red pepper flakes

1 (6 ounce) can tomato paste

3 zucchini, cut into long strands
Cooking Instructions
Heat a large skillet over medium-high heat. Cook and stir beef and black pepper in the hot skillet until browned and crumbly, 5 to 7 minutes; drain and discard grease.

Stir tomato sauce, tomatoes, salt, basil, oregano, garlic powder, onion powder, thyme, and red pepper flakes into ground beef; cook and stir until sauce is warmed through, about 2 minutes. Stir in tomato paste.

Mix zucchini "noodles" into sauce, pressing down to fully submerge them; simmer over medium-low heat until zucchini is tender, about 10 minutes.
Stuffed Peppers with Romaine and Heirloom Tomato Salad
Ingredients
4

large bell peppers (any color)

1

lb lean (at least 80%) ground beef

2

tablespoons chopped onion

1

cup cooked rice

1

teaspoon salt

1

clove garlic, finely chopped

1

can (15 oz) Muir Glen™ organic tomato sauce

3/4

cup shredded mozzarella cheese (3 oz)
Cooking Instructions
Heat oven to 350°F.

Cut thin slice from stem end of each bell pepper to remove top of pepper. Remove seeds and membranes; rinse peppers. If necessary, cut thin slice from bottom of each pepper so they stand up straight. In 4-quart Dutch oven, add enough water to cover peppers. Heat to boiling; add peppers. Cook about 2 minutes; drain.

In 10-inch skillet, cook beef and onion over medium heat 8 to 10 minutes, stirring occasionally, until beef is brown; drain. Stir in rice, salt, garlic and 1 cup of the tomato sauce; cook until hot.

Stuff peppers with beef mixture. Stand peppers upright in ungreased 8-inch square glass baking dish. Pour remaining tomato sauce over peppers.

Cover tightly with foil. Bake 10 minutes. Uncover and bake about 15 minutes longer or until peppers are tender. Sprinkle with cheese.
Eggplant Pizza with Italian Green Beans
Ingredients
2 eggs

1 cup all-purpose flour

½ teaspoon salt

¼ teaspoon ground black pepper

½ teaspoon dried oregano

1 large eggplant, sliced into 1/2 inch rounds

¼ cup vegetable oil

1 (14 ounce) can pizza sauce

1 ½ cups shredded mozzarella cheese
Cooking Instructions
Preheat an oven to 350 degrees F (175 degrees C).

Beat the eggs in a bowl. Mix the flour, salt, pepper, and oregano in a 1 gallon resealable plastic bag. Dip each eggplant slice in the egg, then drop the eggplant in the flour mixture one at a time, shaking the bag to coat the eggplant.

Heat the vegetable oil in a large, deep skillet over medium heat. Place the eggplant slices in the skillet to cook, turning occasionally, until evenly browned. Drain the eggplant slices on a paper towel-lined plate. Arrange the eggplant in one layer on a baking sheet. Spoon enough pizza sauce to cover each eggplant slice. Top each eggplant with mozzarella cheese.

Bake in the preheated oven until the mozzarella cheese is melted, 5 to 10 minutes.
Enter your info below, and we will direct you to a special part of the site with dozens of other God-Made Recipes!