Chipotle Chicken Burrito Bowls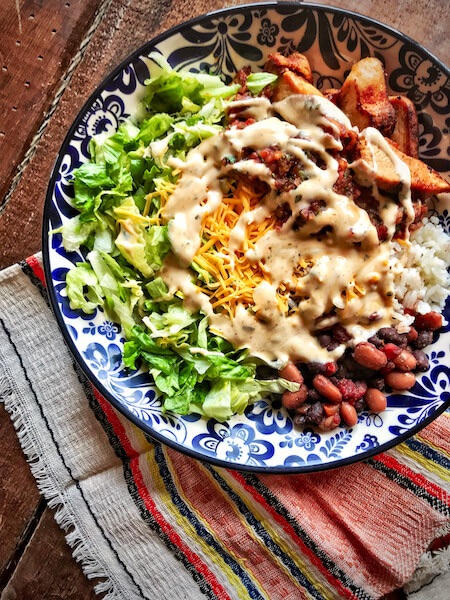 Ingredients
5

cups

s

killet chipotle chicken

2.5

cups c

ilantro lime rice

2.5

cups

q

uick chipotle pinto beans

3-4

cups

r

omaine lettuce

chopped into thin strips/shredded

salsa

optional

guacamole

optional

shredded cheese

optional

southwest chipotle ranch

optional
Cooking Instructions
Marinate chipotle skillet chicken 8 hours (or over night) before making chicken burrito bowls.
Make pinto beans, cilantro lime rice, and skillet chipotle chicken
Assemble bowls: Add 1/2 cup of rice, 1/2 cup of beans, and 1 cup of chicken into bowl. Top with shredded lettuce. Mix together.
Optional: Top off with shredded cheese, guacamole, salsa, and/or southwest chipotle ranch for optimal flavor!
Mediterranean Meatballs and Sweet Potato Fries
Ingredients
2 lbs

ground beef

1

onion, grated

6

garlic cloves, minced

1 tsp

ground pepper

2 tsp

salt

2 tsp

cumin

2 tsp

oregano, dried

1 tsp

cinnamon

½ cup

flat leaf parsley, minced

2

eggs

1/2 cup

panko or gluten free bread crumbs
Cooking Instructions
*This recipe makes 30 (golf ball) sized meatballs.
Heat oven to 400° F. Place onion in a food processor or grate by hand.
In a stand mixer or using your hands, mix the ground beef, onion, garlic, pepper, salt, cumin, oregano, cinnamon, eggs, panko and parsley until fully incorporated. Using a cookie scoop or heaping tablespoon, measure out roughly 30 meatballs. * Dipping your hand into a bowl of water before rolling them will make the meatball surface smooth. Transfer the meatballs to 2 lightly oiled parchment-lined rimmed baking sheets.
Bake in the oven for 20-25 minutes, rotating the pans half way through.
Serve with Sweet Potato Fries.
Smoked Salmon, Avocado, and Arugula Salad
Ingredients
Cooking Instructions
Add all of the ingredients to a bowl and drizzle with the Champagne Vinaigrette. Gently toss together and serve immediately.
Chicken, Grapes, and Pecan Salad on Romaine
Ingredients
½

cup olive oil based mayonnaise or greek yogurt

1

tablespoon fresh lemon juice

1

teaspoon salt

½

teaspoon pepper

2

pounds skinned and boned chicken breasts, cooked and chopped

3

cups red and white seedless grapes, halved

1

cup chopped pecans, toasted

romaine l

ettuce (optional)
Cooking Instructions
Stir together 1/2 cup mayonnaise / greek yogurt and the next four ingredients in a large bowl. Add chopped chicken and grapes, tossing gently to coat. Cover and chill at least 1 hour. Stir in pecans just before serving over romaine lettuce.
Enter your info below, and we will direct you to a special part of the site with dozens of other God-Made Recipes!